May. 31, 2023
MAKE SHELVING SEAMLESS
Stainless Steel TV Niche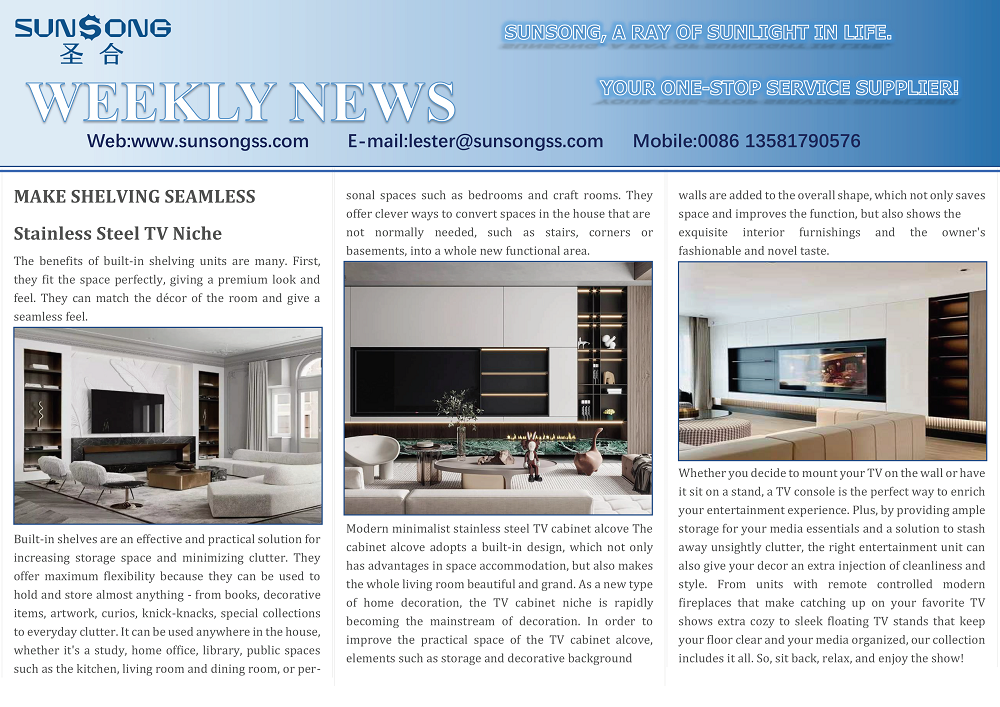 The benefits of built-in shelving units are many. First, they fit the space perfectly, giving a premium look and feel. 
They can match the décor of the room and give a seamless feel.
Built-in shelves are an effective and practical solution for increasing storage space and minimizing clutter. 
They offer maximum flexibility because they can be used to hold and store almost anything - from books, decorative items, artwork, curios, knick-knacks, 
special collections to everyday clutter. It can be used anywhere in the house, whether it's a study, home office, library, public spaces such as the kitchen, 
living room and dining room, or per-
sonal spaces such as bedrooms and craft rooms. They offer clever ways to convert spaces in the house that are
not normally needed, such as stairs, corners or basements, into a whole new functional area.
Modern minimalist stainless steel TV cabinet alcove The cabinet alcove adopts a built-in design, which not only has advantages in space accommodation, 
but also makes the whole living room beautiful and grand. As a new type of home decoration, the TV cabinet niche is rapidly becoming the mainstream of decoration.
 In order to improve the practical space of the TV cabinet alcove, elements such as storage and decorative background 
walls are added to the overall shape, which not only saves space and improves the function, but also shows the
exquisite interior furnishings and the owner's fashionable and novel taste.
Whether you decide to mount your TV on the wall or have it sit on a stand, a TV console is the perfect way to enrich your entertainment experience.
 Plus, by providing ample storage for your media essentials and a solution to stash away unsightly clutter,
 the right entertainment unit can also give your decor an extra injection of cleanliness and style. 
 From units with remote controlled modern fireplaces that make catching up on your favorite TV shows extra cozy to sleek floating TV stands
 that keep your floor clear and your media organized, our collection includes it all. 
 So, sit back, relax, and enjoy the show!