Nov. 15, 2022
Water ripple wave sheet not only enlarges the space but also makes you feel relaxed and happy like in the ocean!
The water ripple wave sheet is mainly made by stamping the pattern on the stainless steel plate. The depth of the unevenness on the plate varies with the pattern. Forming a sparkling visual experience. Stamping is a metal forming process that uses a stamping machine to produce raised or sunken designs on a stainless steel sheet. The stainless steel sheet passes through a machine mold to produce a corresponding regular design pattern on its surface. In addition, depending on the roller mold used, different patterns can be produced on the metal surface.
Stamping processing can be accepted on 2B, BA, mirror, and #4 finish, and PVD coating can be carried out after stamping. We also offer to stamp stainless steel processing such as laser cutting, bending, welding and other CNC mechanical services.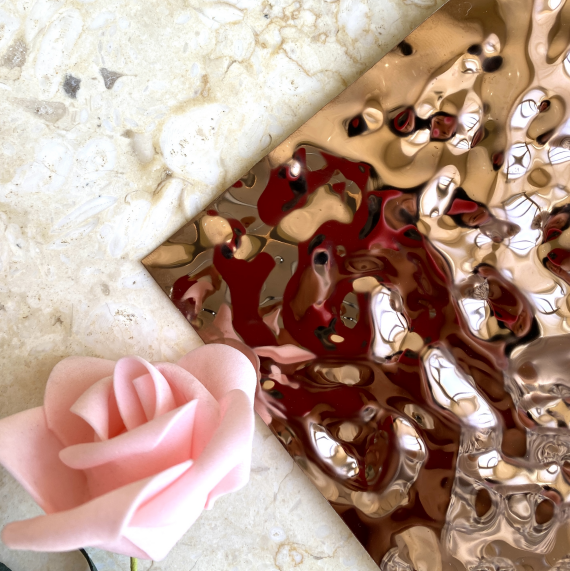 Every piece of water ripple wave stainless steel sheet got a unique concave and convex texture. It has various styles, durability, rich colors, strong 3D effect. Also, it has the characteristics of safety, environmental protection and fire prevention. The performance of stainless steel is very stable and will not be changed by water in the air.
SUNSONG provides a diverse range of water ripple stainless steel & metal sheets which come with an exclusive style that looks like a water wave effect. They are all appealing, functional and durable. Water ripple stainless steel sheets are widely used as building decorative sheet metal materials for commercial or residential interior and exterior decoration and engineering projects. Water ripple sheet is used in a variety of applications such as ceilings, wall panels, backgrounds, hallways, bar counters, background walls and other architectural and ornamental projects.
As our water ripple metal sheets are made from premium-quality stainless steel with high strength and resistance to acid and alkali, they can provide your projects with long-lasting use. Additionally, the surface is processed with mirrored finish and PVD color, and the irregular patterns are fabricated by applying the stamping process, the reflecting light achieves a unique effect that can retain a sense of spatial hierarchy. The water ripple stainless steel sheets not only maintain the original properties of plain stainless but also provide a stunning design to greatly improve the projects with aesthetics and added value.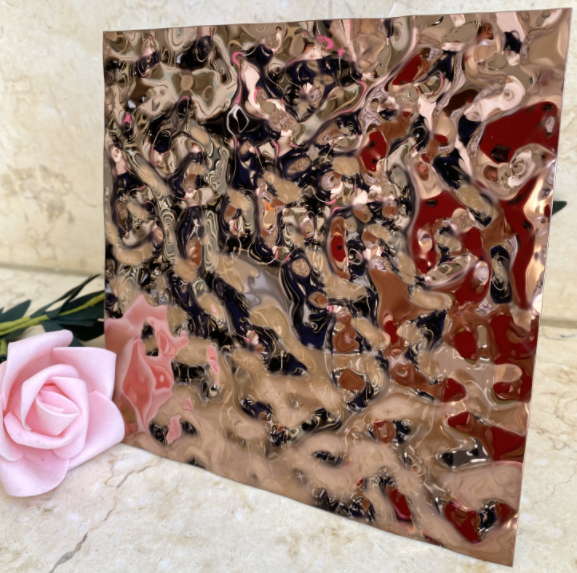 We offer three types of water ripple wave patterns. They are small water ripple finish, medium water ripple finish and large water ripple finish.
The recommended thickness for a water ripple wave sheet is 0.6-2.0mm.
Many different colors like silver, gold, rose gold, bronze, brown, brass, coffee, champagne, black, SUNSONG black, blue, red, purple and green are available.
SUNSONG standard size is 1000*2000mm, 1219*2438mm, 1219*3048mm and 1500*3000mm. Semi-Matte finish. Custom size is also available.