Oct. 24, 2018
Dear Sir or Madame,
Beijing Shenghe Zhongtai Stainless Steel Co. Ltd (SUNSONG) will showcase her products in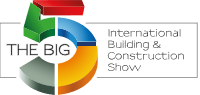 , the big construction show.
Being our respectful customer, we sincerely invite you to visit our booth at No.: SS1
H160/H162 on 26 - 29 November 2018 | 11:00 - 19:00 | in DUBAI WORLD TRADE
CENTRE.
As a leading stainless steel finishes manufacturer and metalwork fabricator in North China, SUNSONG will present MOST major products then, and we believe that a face to face talk between us can be very constructive to the business growth for both sides.
Let us meet and construct our business relation in the BIG 5 Building & Construction.
Sincerely Yours
SUNSONG
INTERNATIONAL DEP.